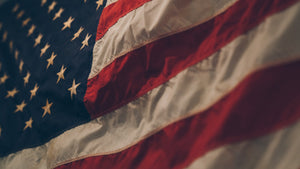 12% donated to U.S. Veterans and mental health initiatives
We believe in giving back to others and truly making a difference. That's why we are donating 12% of our total sales, not just profits, to organizations that support U.S. Veterans and mental health initiatives. As Veterans ourselves, we know the struggles that one can face and want to be part of the solution.
We (Travis Gardner and Tucker Burns) met while in the Corps of Cadets at Texas A&M and became friends while involved with Parsons' Mounted Cavalry, the last remaining horse-mounted ROTC unit in the country. We want our brand to be personally symbolic, but to also contain a meaning with which others can resonate. After months of brainstorming, we decided on "The Charge."
Throughout history, a cavalry charge was iconically an army's most feared and revered battle tactic. It could quickly win a battle, but was difficult to execute and so considered a very risky maneuver. When a commanding officer (CO) gave the order, it wasn't done lightly; the complexity and risks were understood by all. As a result, COs who called for a charge have been and are remembered still for heroism and bravery regardless of the battle's outcome.
We love that symbolism.
We believe that everyone has a charge be it personal, professional, or relational.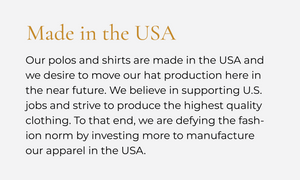 However, most people are too scared to pursue it. They see only risks, meditate on doubt and fear, never running toward what they are called to do. But we're here to tell you there are worse things in life than pursuing something and failing. Unlike the COs that called for a cavalry charge, if we fail, we're probably still alive. We can dust ourselves off and try again. At least we don't have to live with the regret, sitting in mediocrity, years down the road asking ourselves "what if?" All the while, feeling like victims of our current situation, instead of accepting the fact that we've become victims of our own choices.
The goal of this company is to make superior quality polos and shirts while inspiring others to achieve their full potential. At the end of the day, it doesn't matter whether you succeed or fail; all that matters is that you passionately pursue what is important to you.
HOW WE CAME UP WITH OUR LOGO: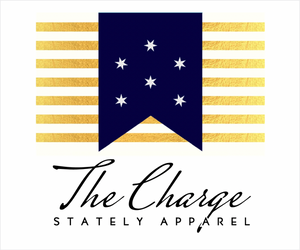 We chose to utilize a 6-pointed star, as opposed to a 5-pointed star, as it dates back to the founding of our country. The Continental Army had a seemingly impossible task at hand to gain the freedom we now possess in the USA; defeating the British, who at the time possessed the strongest military in the world. A 6-pointed star was utilized on the battle flag for the Commander-in-Chief of the Continental Army, symbolizing the presence and authority of the person leading the colonies' fight for freedom. We believe that each person should act as the Commander-in-Chief of their own life – boldly stepping onto the battlefield and pursuing "Their Charge" in whatever arena of influence you have been called to.
When people wear our brand, we want them to walk in confidence. We want their presence to be known, not just because they're wearing high-quality apparel, but also by the way they carry themselves. We want them to bring the mindset from the battlefield to the boardroom, and beyond.
For this reason, we also chose to utilize a total of six stars on our guidon – representative of a six star general, the highest attainable rank in the military. As Eleanor Roosevelt once said, "No one can make you feel inferior without your consent." We want people to live in that reality when they wear our brand.
OUR FOUNDERS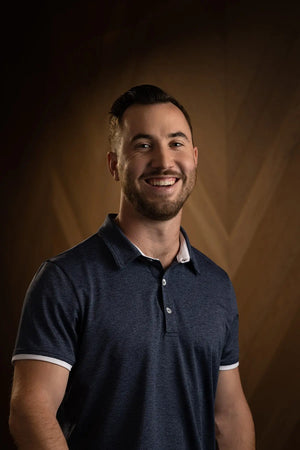 Travis Gardner
Upon graduating from Texas A&M in 2014, Travis commissioned into the USAF, and served as a Special Agent with the Air Force Office of Special Investigations. Travis made the decision to separate from the military in 2020, as he had accepted a job offer to continue Special Investigations with the FBI. However, while on a mission trip to South America, Travis felt led to turn down the opportunity with the FBI and move back to Texas to pursue a ministry opportunity. Travis and his family moved back to Texas in February 2020, and he began pursuing a graduate degree in seminary, while working a full time job. Travis ultimately realized his calling was not within the confines of a physical church, but through the communities he had been a part of (military, law enforcement, first responder).
During Travis' time as a Special Agent, he was exposed to multiple horrifying acts to adults and children that led to him seeking mental health providers. Through navigating the stigmas of this in the military, as well as seeing the effects of mental health issues that were not addressed, Travis felt a desire to positively impact this sphere of influence. After multiple meetings with Tucker, they realized the impact they could have on society through the apparel industry, and the idea of The Charge Stately Apparel was born, with their primary mission being to give back to Veterans and mental health initiatives.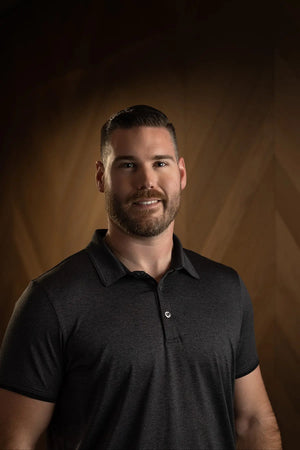 Tucker Burns
After graduation from Texas A&M in 2014, Tucker joined the United States Army, and served as an Armor Officer for the next few years. In 2018, Tucker transitioned out of the Army and returned to Texas A&M, earning a Masters degree in Land Economics and Real Estate at Mays Business School. During his graduate studies, Tucker interned in Shanghai, China, where he worked closely with executives in the manufacturing, distribution, and supply chain industries; opening his eyes to the importance of bringing industry back to the US. Tucker then went on to pursue a career in commercial real estate. Shortly thereafter he was diagnosed with a brain tumor, which was especially traumatic as he lost his father to the same diagnosis at an early age. Recognizing the financial burden placed on individuals receiving this kind of news spurred Tucker's aspiration to create a way to fund the fight against brain cancer, and  stigma associated with this kind of diagnosis.
Considering the opportunity to do so through constructing a company with Travis, built on the foundation of helping others, just morals, and ethical cause drove this idea into reality; bringing attention to charities that not only support brain cancer research, but mental health initiatives as a whole, while also serving the Veteran community in which Travis and Tucker belong.